COMPANY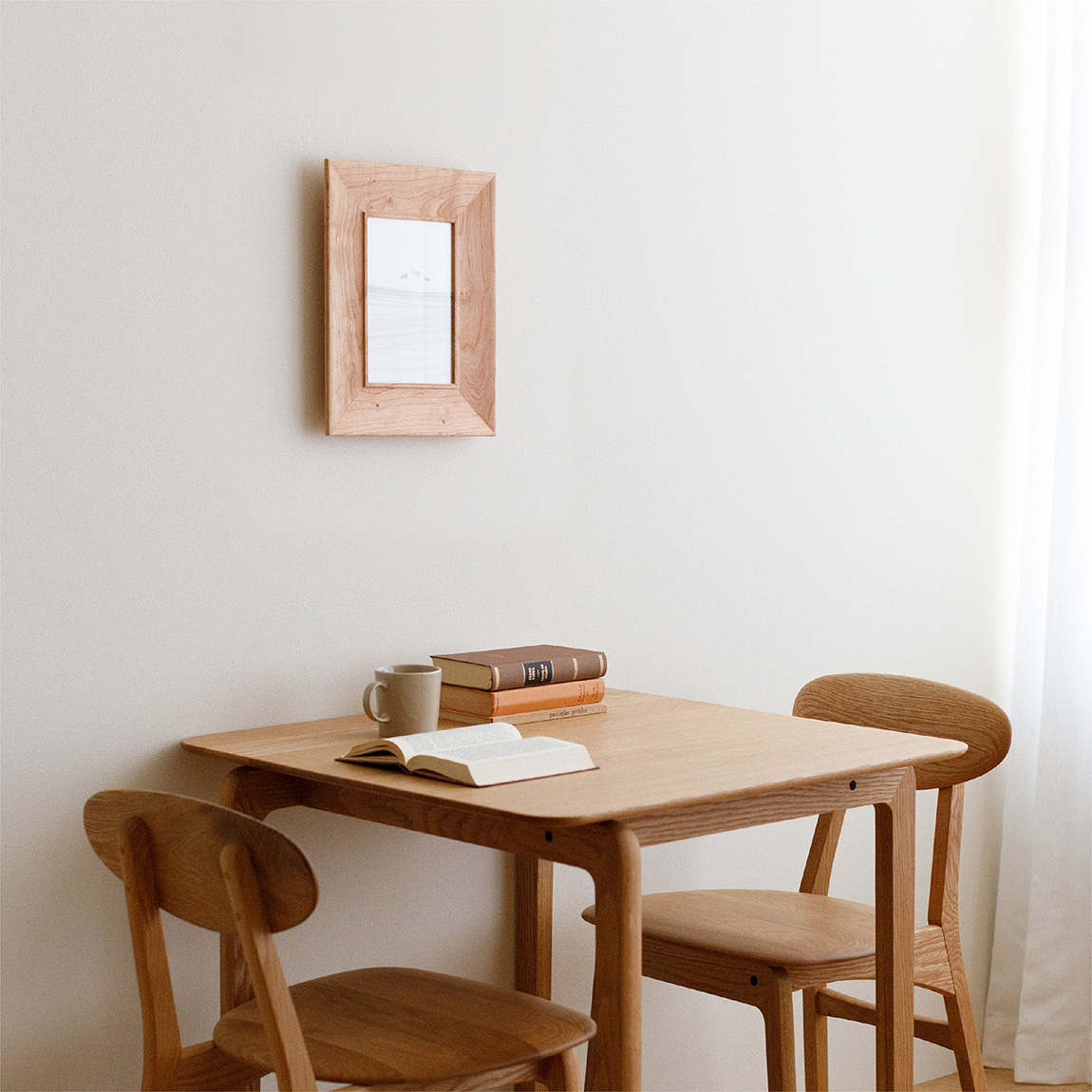 We make irreplaceable furniture, for your down time.
Joge Town, located in Fuchu City, Hiroshima Prefecture is surrounded by abundant mountains.
Since old times the town has been a thriving place for calligraphy, and it has prospered by making frames that display artwork.
Our company is from this town. It started making frames, folding screens and tea utensils. Realizing that we must change with the times we started to make furniture in 2012.
Our furniture has smooth and beautiful curves, it has been imagined from the natural landscape and objects found in it. When you touch our wooden furniture, you will feel a texture that can only be found in handmade products.
Our furniture has a natural design that will look at home in any space. When you use it, it will make you feel calm.
We are also pursuing ease of use in modern life. Our stools and side tables have an easy to use knock down system so it can be assembled easily and a our stacking system means that they can efficiently be put away.
Our furniture is based on one idea, "We want to make furniture that matches your daily life". We have been making frames and folding screens for many years that bring rooms to life. We believe that our furniture can do the same thing.
We don't want to make furniture that stands out, rather we want it to melt away into the atmosphere of the space. It can therefore fit any lifestyle and give you comfort in your everyday life. Like this, we aim to make irreplaceable furniture.
WHAT WE MAKE
Designer:Nobuo Mori

This frame has a simple design to make pictures or paintings look even more beautiful.
However, we have not forgotten the most important thing which is to make sure the glass in front of the photo or picture sits perfectly.

Designer:Nobuo Mori

By using curved surfaces, we aim to make a good user-friendly series of furniture while also expressing the beauty of the natural wood grain. It has a with good touch, and a fitting comfort.

Designer:Yuji Mori

This is a wooden speaker kit that anyone can make full-fledged speakers. This speaker is familiar with the interior, and makes you happy just by placing it at home.The kit contains all the materials necessary for production, so anyone can easily make a speaker while having fun.And you can make a wonderful sound that you don't think you have made.
HISTORY
Feb, 1983

The first head of the company Fujioka Doshi established "Nihon-Gijutsu-Kougei-Sha"
July, 1988

The company name and organization was changed to "Dento-Kougei Co., Ltd.
Sep, 1990

Expanded our factory.
Oct, 1998

Keishi Fujioka assumed of President.
Jan, 2011

Introduced the Story Planning.
June, 2011

Started planning, manufacturing and selling wall furniture and other miscellaneous goods.
May, 2014

Keishi Fujioka assumed of CEO,
Toshihiko Fukumaki assumed of President.
July, 2015

Started selling our original furniture brand "LISCIO"
July, 2015

Started selling our original goods brand "FRAME"
PROFILE
DENTO KOUGEI CO.,LTD
Capital

10 million Japanese Yen
Main office and Fatory

1503 Shinami, Joge-cho, Fuchu-shi, HIROSHIMA 729-3403 JAPAN (see Google Map)
TEL : +81-847-62-3377
FAX : +81-847-62-2345
URL : https://dento.furniture
MAIL : info@dentou-kougei.co.jp
Foundation

Established in 1983
Business Domain

Seles original wooden furniture and frames directly and by wholesale. Making OEM items.
Making items for interior and fashion brand stores.
CONTACT
Please contact us-at the telephone number or email address or inquiry form bellow.
DENTOU KOUGEI CO.,LTD
1503 Shinami, Joge-Cho, Fuchu-Shi, Hiroshima-Ken, 729-3403, Japan
TEL : +81-847-62-3377
info@dentou-kougei.co.jp